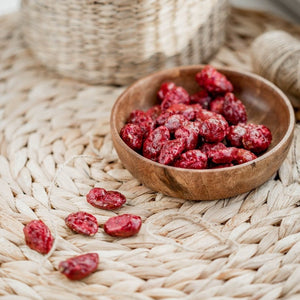 What is Acai Powder Extract? 
Acai powder extract is the powdered form of extract taken from the acai berry. Native to tropical Central and South America, the acai berry is known as a powerhouse of antioxidants and contains many vitamins, including vitamins A, B, C, and E. Acai powder extract is also known to have anti-inflammatory properties - all of which make it a fantastic ingredient in your skincare products.
What are the benefits of Acai Powder Extract?
The benefits of acai powder extract in skincare include:
The antioxidants contained in acai berries make it an effective anti-aging solution

Revive skin and restores moisture with its copper content

Heals damaged skins cells

Has anti-inflammatory properties

The fatty acid content promotes collagen production, boosting firmness in the skin
Does acai help with acne?
Acai powder extract is an effective solution to acne breakouts and is frequently found in skin care products for acne-prone skin. Acai berries have antioxidant and anti-inflammatory properties which help to fight off acne as well as calm and soothe any breakouts you experience.
Is acai berry anti-aging?
Acai berries, and by extension acai powder extract, contain a tonne of antioxidants. Antioxidants are incredible for our bodies, both when ingested and when applied to the skin. Antioxidants fight off free radicals which can cause damage to our bodies, and skin. They can also help to relieve damage caused by oxidate stress. free radical damage and oxidative stress contribute to premature aging, which is why adding acai powder extract to your skincare can have powerful anti-aging effects.
Is acai good for eczema?
Acai powder extract is a good addition to skincare that targets skin conditions like eczema and psoriasis. With its anti-inflammatory properties, acai powder extract can help to soothe and calm breakouts caused by inflammation. Acai powder extract also helps to hydrate the skin, replenishing moisture and soothing skin conditions caused by dry skin.
What are the ingredients?
INCI: Euterpe Oleracea Fruit Extract
Ingredients: Euterpe Oleracea Fruit Extract, Purified Water
Format:
Fruit & Herbal Powder Extracts
Discuss whether we have this in stock or other extracts, essential oils and fragrances for Private Label Skin Care or Private Label Hair Care Products: Book a call here.
**Only available for purchase with private label products.**