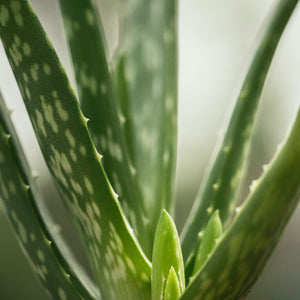 What is Aloe Vera?
Aloe vera extract, found in many skincare products, is an extract of the aloe vera plant, a succulent with no naturally occurring populations. Though other, closely related, aloes exist, the aloe vera plant from which we get the extract is only found in cultivation.
Aloe vera is used frequently in skin care products for its many healing and cooling abilities. It is usually found in gel format but the extract can be added to a range of product types.
What are the benefits of Aloe Vera in skincare?
Aloe vera is used in skincare to treat a wide range of ailments and conditions. Some of its benefits include:
Soothing sunburn and other burns

Moisturising and replenishing the skin

Boosting the healing of wounds

Effective in anti-aging skincare

Can reduce infection and acne

Lightens blemishes
Is Aloe Vera actually good for the skin?
Aloe vera is a good ingredient to add to your skincare products because it offers a huge amount of benefits to the skin. It contains enzymes, antioxidants, and many vitamins, including vitamins A and C. 
Aloe vera has been used as a topical remedy for burns and other wounds for years. The same properties that make it adept at healing wounds will also help aloe vera extract treat acne breakouts. On top of this, aloe vera is great for hydration of the skin and can be effective in fighting the signs of ageing.
Is Aloe Vera good for oily skin?
Aloe vera is good for oily skin because it absorbs quickly into the skin, and it is known to treat flaky patches caused by oily skin. Though it is adept for use on oily skin, aloe vera is actually suitable for a range of skin types and works well on dry skin.
Aloe vera has been known to cause allergic reactions in those with sensitive skin so a patch test may be necessary if you have this skin type.
Can Aloe remove dark spots?
Dark spots on the face are caused by hyperpigmentation. There is some evidence to suggest that aloe vera can treat this hyperpigmentation and reduce to look of dark spots. It will not totally remove the dark spots but the aloin, a natural depigmentation compound, may help to lighten skin.
What Are The Ingredients?
INCI: Aloe Barbadensis
Ingredients: Helianthus Annuus Seed Oil (Sunflower Oil), Aloe Barbadensis Leaf Juice Powder (Aloe Vera Leaf Juice Powder), Tocopherol (Natural Vitamin E)
Format: Glycerine Based Liquid Extract
Discuss whether we have this in stock or other extracts, essential oils and fragrances for Private Label Skin Care or Private Label Hair Care Products: Book a call here.
**Only available for purchase with private label products.**