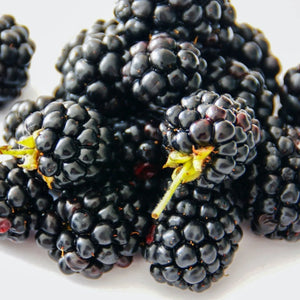 What are Blackberry Powder Extracts?
Made up of spray-dried, freshly-squeezed blackberries, this blackberry powder is a concentrated blend of phenolic antioxidants and contains fruit sugars, acids, and soluble fibre for microbiome support and antioxidant stabilisation. Blackberries themselves contain lots of water, so only 12g of this blackberry powder is needed to get the same dose of antioxidants as 100g of fresh blackberries.
What are the benefits of Blackberry Powder Extracts?
Black powder extracts can be added to a range of skin and hair care products to add a good dose of antioxidants and other plant compounds. Berries are known in the fruit world for their massive antioxidant content and blackberries are no different.
Blackberry powder can be added to shampoo bars and facial cleansers for antioxidant treatment, and could also be used as a natural colouring in products like face masks.
Is blackberry good for skin?
Blackberries are a good source of vitamin A. This means that in skincare, blackberry powder can help to reduce the signs of aging, including wrinkles, fine lines, and age spots. It may also improve skins elasticity and smooth texture changes. It is a good addition to skincare for mature skin.
Is blackberry good for acne?
With a huge number of antioxidants, blackberries are good for reducing mild to moderate acne. Antioxidants can help to reduce damage from free radicals which, in turn, reduces acne breakouts.
Blackberries also contain both vitamin A and K, both of which help boost wound healing, helping to clear away breakouts.
Is blackberry powder good for hair growth?
Yes, blackberries can help with hair growth and boost the health of hair. With a good amount of vitamin C, which boosts collagen production, blackberries may help to reduce hair shedding as well as feed hair follicles, boost circulation, and encourage healthier hair growth.
What are the ingredients?
INCI: Rubus Fruticosus
Ingredients: Rubus Fruticosus Fruit Extract, Purified Water
Format: Fruit & Herbal Powder Extracts 
Discuss whether we have this in stock or other extracts, essential oils and fragrances for Private Label Skin Care or Private Label Hair Care Products: Book a call here.
**Only available for purchase with private label products.**