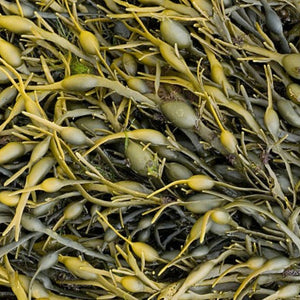 What is Bladderwrack Liquid Extract?
A form of seaweed (kelp) with a huge amount of iodine, Bladderwrack has long been used in herbal medicine. In skincare, Bladderwrack is used to boost wound healing and is known for its anti-microbial properties making it suitable for targeting problem skin. It can also offer moisturising properties as it binds easily with water.
What are the benefits of Bladderwrack Liquid Extract?
The benefits of bladderwrack for skincare are multitudinous and include:
Soothing and calming skin

Healing and repairing wounds

Reducing eruptions of skin conditions like acne, eczema, and psoriasis

Detoxifies and cleanses pores

Improves skin tone and texture

Firms skin

Improves elasticity of the skin

Boosts moisture
Can you use bladderwrack on your face?
Yes, bladderwrack can be used on your face and is used in a range of facial skincare products. In herbal medicine, Bladderwrack has been used to treat wounds and help with skin repair for centuries, making it a good ingredient for your skin, especially for those with inflammatory skin conditions.
What can bladderwrack do for your hair?
There are a number of things that bladderwrack can do for your hair that makes it a great ingredient in hair care products. These benefits include:
Enhancing the shine of hair

Conditioning the hair

Making the hair thicker and stronger

Improving the growth of hair

Fortifying hair strands

Soothing the scalp

Strengthening hair
Which products would you find bladderwrack in?
Bladderwrack can be used in both skincare and hair care products. In skincare, it is commonly used in products like facial scrubs and treatments for repairing the skin. In haircare, it may be used in shampoos and conditioners, as well as other treatments.
You may also find bladderwrack in shower cream, soap, and exfoliators for the body.
What are the ingredients?
INCI: Fucus Vesiulosus
Ingredients: Glycerin - Vegetable/Palm Free, Purified Water, Fucus Vesiulosus Extract
Format: Glycerine Based Liquid Extract
Discuss whether we have this in stock or other extracts, essential oils and fragrances for Private Label Skin Care or Private Label Hair Care Products: Book a call here.
**Only available for purchase with private label products.**