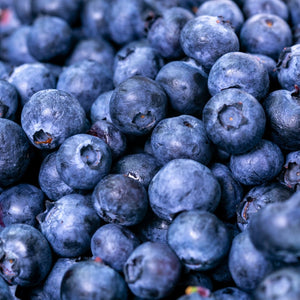 What is Blueberry Liquid Extract?
This Blueberry Liquid Extract is made of the concentrated juice of fresh blueberries. It contains many vitamins, including vitamin A which is particularly good for rough and dry skin. Blueberry Liquid Extract can be found in anti-aging skincare remedies and contains vitamin E, a good preservative in cosmetics and skincare products.
What are the benefits of Blueberry Liquid Extract?
Blueberry Liquid Extract makes a great ingredient in both skincare and hair care. With a good number of antioxidants, vitamins, and minerals as well as other plant compounds, it adds lots of goodness to the products!
Benefits of Blueberry Liquid Extract in personal care products include:
Fighting signs of aging, including wrinkles and fine lines

Boosting collagen and firming skin

Improving blood circulation

Supporting wound healing

Aiding hair growth and boosting circulation to the scalp

Strengthening hair strands
Is blueberry extract good for the skin?
Blueberry Extract is very good for the skin and adds a range of benefits to the skincare products it is used in. It is known to help fight the signs of aging, making it a good choice for skincare products for mature skin and it improves blood circulation and collagen production, helping to keep skin firm. Blueberry is also known to aid in wound healing, making the extract a good choice for acne skincare products.
Is blueberry extract good for curly hair?
Blueberry Extract contains a range of B vitamins which makes it a good choice for curly hair products. It also contains a range of other minerals and vitamins as well as antioxidants, boosting the overall health of hair and helping to prevent grey hairs.
Do blueberries thicken hair?
Blueberries are thought to be good for strengthening and thickening the hair, helping it to grow quickly and preventing breakages. Blueberry Liquid Extract is a good choice for hair treatments that promote hair growth, strength and thickness.
What are the ingredients?
INCI: Vaccinium Angustifolium
Ingredients: Aqua (Water), Vaccinium Angustifolium Fruit Extract (Blueberry Fruit Extract), Phenoxyethanol, Caprylyl Glycol
Format: Water-based Liquid Extract
Discuss whether we have this in stock or other extracts, essential oils and fragrances for Private Label Skin Care or Private Label Hair Care Products: Book a call here.
**Only available for purchase with private label products.**