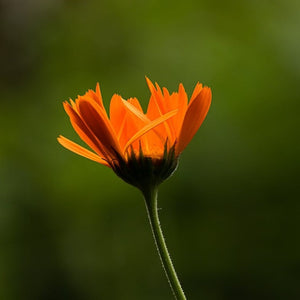 What is Calendula Liquid Extract?
Calendula Liquid Extract is a liquid extract taken from the calendula plant. A common plant in Australia, calendula has been used in herbal medicine for centuries. With wound healing abilities and moisturising properties, calendula is a common ingredient in skin care products and can be used to soothe and heal irritated and dry skin. Liquid extracts lend themselves to water-based products.
What are the benefits of Calendula Liquid Extract for skincare products?
The benefits of Calendula Liquid Extract for skincare include:
Antiseptic properties, making it adept at wound healing

Anti-inflammatory properties, making it good for inflammatory skin conditions

Moisturising, making it an ideal ingredient in products suited to dry and flaky skin

Stimulates collagen production, helping to firm skin and improve elasticity
Is calendula good for all skin types?
Calendula can be used in a range of skincare products but it may be best suited to products that are designed for dry and irritated skin. As a good moisturiser, calendula extract can help skin cells hang onto moisture due to its fatty acid content. It also has anti-inflammatory properties which can help to reduce redness and irritation caused by inflammatory skin conditions like eczema and psoriasis. 
Is calendula good for dark spots?
Calendula is thought to be a good treatment for dark spots, along with blemishes, acne, and acne scars. It would be a good choice for an ingredient in skincare products aimed at targeting these skin conditions.
What products can Calendula Liquid Extract be used in?
Calendula Liquid Extract is a good choice as an ingredient in a whole range of personal care products. These products include:
Skincare products designed for treating dry and flaky skin

Skincare products used to treat acne, dark spots, and acne scars

Wound healing products

Products designed for improving the skin's elasticity
What are the ingredients?
INCI: Calendula officinalis
Ingredients: Glycerine, Purified Water, Calendula Flower Extract
Format: Glycerine Based Liquid Extract
Discuss whether we have this in stock or other extracts, essential oils and fragrances for Private Label Skin Care or Private Label Hair Care Products: Book a call here.
**Only available for purchase with private label products.**