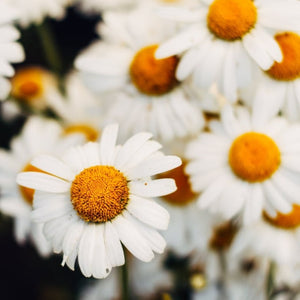 What is Chamomile Flower Dried Herb?
The dried out flower of the chamomile plant, our Chamomile Flower Dried Herb is a soothing skincare ingredient that has been a choice remedy in herbal medicine for many years. Known for its ability to promote wound healing and reduce swelling, this gentle herb can be added to calming, soothing, and de-stressing products for a relaxing addition to your skin and hair care.
What are the benefits of Chamomile Flower Dried Herb?
Chamomile Flower Dried Herb has a tonne of benefits for personal care products. These benefits are as follows:
Anti-inflammatory properties, making it useful in treatments for acne and other inflammatory skin conditions

Anti-fungal properties, helping to soothe skin irritation and prevent infection

Tightening pores, creating firmer and smoother skin

Moisturisation, to rehydrate both skin and hair

Soothes irritation in the scalp helping to prevent dandruff build-up
Does chamomile brighten skin?
Chamomile is a natural skin lightener, meaning it can help to brighten the skin and reduce the appearance of dark circles under the eyes. It is also a good moisturiser, helping to rehydrate the skin which can help the skin to look brighter and healthier.
Does chamomile help clear the skin?
Chamomile is a good choice for clearing the skin and preventing acne breakouts. It has anti-inflammatory properties which help to soothe the redness and inflammation caused by acne. It also has anti-fungal properties which can reduce acne breakouts and is a natural cleanser for skin.
Is chamomile good for the scalp?
Chamomile helps reduce irritation of the scalp. By soothing and healing the scalp, chamomile may help to stimulate new hair growth as well as prevent dandruff build-up. It is also good for moisturisation which can help to rehydrate hair and make it shine.
What are the ingredients?
INCI: Chamomilla Recutita
Ingredients: Matricaria Recutita Flower * * Denotes Certified Organic
Format: Dried Herb Extract
Discuss whether we have this in stock or other extracts, essential oils and fragrances for Private Label Skin Care or Private Label Hair Care Products: Book a call here.
**Only available for purchase with private label products.**