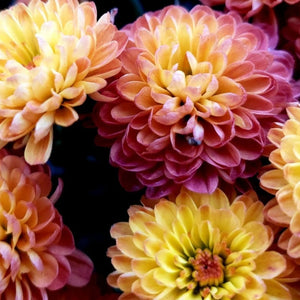 What is Chrysanthemum Liquid Extract?
A herbal extract from the chrysanthemum plant, this Chrysanthemum Liquid Extract is known for its soothing properties and ability to revitalise the skin. It makes a good addition to skincare products and can also be used in hair care products designed for hair growth.
What are the benefits of Chrysanthemum Liquid Extract?
Chrysanthemum comes with lots of benefits for skin and hair care. These benefits include:
Soothing and calming unhappy and irritated skin

Natural astringent, making it a good choice for toners and cleansers

Vitamin A content makes it useful in protecting the skin and promoting skin cell turnover

Reducing the signs of aging due to antioxidant content

Stimulating hair growth
Do chrysanthemums have healing properties for skin?
Chrysanthemums have been used topically for centuries due to their ability to heal and repair the skin. They are known to reduce inflammation and irritation caused by skin conditions like eczema and are helpful in clearing the skin.
What do chrysanthemums do for hair?
Chrysanthemums are thought to possess the ability to stimulate new hair growth and have been used in treatment for hair loss. Chrysanthemum may also be able to protect your hair from the damage caused by oxidative stress due to its high antioxidant content, helping your hair to grow thicker and longer.
What products would you find Chrysanthemum Liquid Extract in?
Chrysanthemum is a popular ingredient in many personal care products due to its range of different benefits for the skin and hair. Products you may find it in include:
Treatments for skin conditions like eczema 

Skincare products designed to soothe and heal

Cleansers and toners

Anti-aging skincare products

Treatments for hair loss
What are the ingredients?
INCI: Chrysanthemum Morifolium
Ingredients: Glycerine, Purified Water, Chrysanthemum Flower Extract
Format: Glycerine Based Liquid Extract
Discuss whether we have this in stock or other extracts, essential oils and fragrances for Private Label Skin Care or Private Label Hair Care Products: Book a call here.
**Only available for purchase with private label products.**