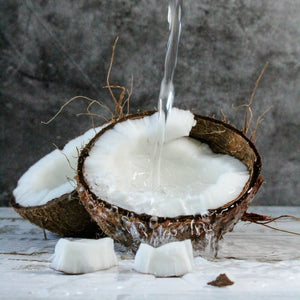 What Is Coconut Water Liquid Extract?
Coconut water liquid extract is a substance derived from the meat of  green coconuts. It has hydrating and moisturising qualities that can strengthen the skin. Many people incorporate this extract into their skin care products, as it contains anti-aging properties. Coconut water is safe for all skin types because of how nourishing, hydrating and replenishing it is. 
What Are the Benefits of Coconut Water Liquid Extract?
Coconut water is rich in skin-conditioning properties that can replenish the texture on your skin. Here are some other benefits of coconut water liquid extract: 
Moisturising qualities help to prevent water loss in your skin

Increases collagen production that reduces wrinkles

Anti-inflammatory properties can soothe acne flare ups

Potassium levels maintain your hydration balance 

Fatty acids can protect the natural oils on your face. 
Is Coconut Water Good for Acne? 
Coconut water liquid extract may help fight stubborn acne. It contains anti-inflammatory properties that soothe redness around your spots. You can also use coconut water to reduce the excess oils on your skin, which may prevent stubborn acne from coming back. 
Can I Use Coconut Water to Wash My Face?
You can use coconut water to wash your face in the morning and night. Some face washes may already contain coconut water for hydration purposes. If you have dry skin, you can mix the coconut water with your favourite face wash. This should give you the best results.
Does Coconut Water Remove Dark Circles?
Coconut water has antioxidants that can reduce the dark circles under your eyes. You can use the coconut water liquid extract twice a day. Just mix it with some serum and gently dab that around your eyes. This technique could help you see a visible difference in just a few days. 

What Are the Ingredients?
INCI: Cocos Nucifera
Ingredients: Purified Water, Coconut Fruit Powder, Phenoxyethanol, Caprylyl Glycol
Format: Water based Liquid Extract
Discuss whether we have this in stock or other extracts, essential oils and fragrances for Private Label Skin Care or Private Label Hair Care Products: Book a call here.
**Only available for purchase with private label products.**