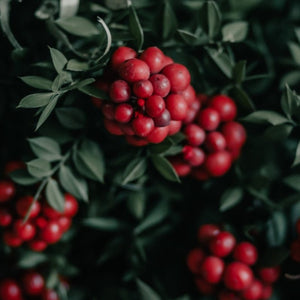 What is Cranberry Powder Extract?
A 100:1 fruit and herbal powder made from extracts of the cranberry plant, this powder extract is packed to the brim with antioxidants and anti-inflammatory properties as well as a range of vitamins, including vitamins A, C and E. Cranberry extract is found in a range of skin and hair care products.
What are the benefits of Cranberry Powder Extract in personal care products?
The benefits of adding cranberry extract to your personal care products include:
Anti-inflammatory properties to reduce redness and irritation

Anti-aging properties to reduce the visible signs of aging, including wrinkles and age spots

Protection from UV damage

Antioxidant content that helps to protect the skin from oxidative stress

Vitamin C content helps flush out toxins and boost collagen production

Fatty acid content boosts the elasticity of the skin
Is cranberry good for hair growth?
Cranberry is thought to be good for hair growth. Cranberry extract may help to stimulate new hair growth by boosting the health of the hair follicles. It is also thought that the vitamin content in cranberry extract can help to make hair shinier and glossier.
Does cranberry help with acne?
Cranberry is a good choice for acne-specific skincare. Cranberry extract has anti-inflammatory properties which can help to reduce the redness of acne breakouts and soothe them. The vitamin content in cranberry extract may be good for flushing out the toxins in the skin and reducing the clogged pores that cause acne breakouts.
What products could Cranberry Powder Extract be added to?
Cranberry powder is a great ingredient in a range of different personal care products. Examples of products it could be added to as an ingredient include:
Skincare products designed for acne-prone skin

Skincare designed for mature skin

Sun protection skincare products

Soothing skincare

Haircare that is designed to boost hair growth

Haircare for shinier and glossier hair
What are the ingredients?
INCI: Vaccinium Macrocarpon
Ingredients:  Vaccinium Macrocarpon Fruit Extract, Purified Water [Min. 25% Anthocyanidins]
Format: Fruit & Herbal Powder Extracts [100:1]
Discuss whether we have this in stock or other extracts, essential oils and fragrances for Private Label Skin Care or Private Label Hair Care Products: Book a call here.
**Only available for purchase with private label products.**