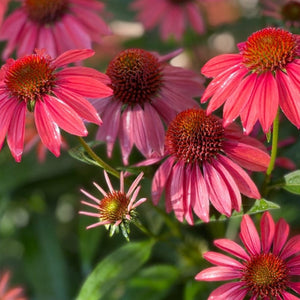 What Is Echinacea Liquid Extract?
Echinacea liquid extract derives from a herbal ingredient that was originally farmed for medical purposes. It has been used to treat cold and flu symptoms, wounds and other health problems. This liquid extract has antioxidants that are great for protecting your skin from sun damage or bacteria. You can simply mix it with your favourite skin care product to see results. 
What Are the Benefits of Echinacea Liquid Extract?
Echinacea liquid extract is great for both your physical and mental health. Healing your body and skin is a great way to heal your mind. Here are some other benefits of using echinacea: 
Ursolic and Caftaric acids help to strengthen your skin 

The organic formulation will give you a fresh-looking glow

Skin-enhancing properties smooth out wrinkles 

Vitamin C encourages a brighter complexion 

Natural acids can remove bacteria and oils from the face 
Is Echinacea Good for Wrinkles?
Yes, the antioxidants can have a shrinking effect on skin cells that reduce visible signs of ageing. The tightening properties will minimise pores and lead to more taut-looking skin that doesn't show fine lines. You could mix this extract with another anti-ageing skincare product.
Can You Use Echinacea On Your Skin?
Echinacea liquid extract is great for brightening and smoothing out your skin. It contains antimicrobial and anti-inflammatory ingredients that treat acne. If you struggle with regular breakouts, you can use this liquid extract to reduce inflammation. 
How Do You Use Echinacea On Hair?
You can make your own hair mask using your current hair conditioner and echinacea liquid extract. Just combine both of the products and apply the mixture to your hair. Leave the mask on for 10 minutes to feel the physical results. 

What Are the Ingredients?
INCI: Echinacea Purpurea
Ingredients: Glycerin - Vegetable/Palm Free, Purified Water, Echinacea Purpurea Extract
Format: Glycerine Based Liquid Extract
Discuss whether we have this in stock or other extracts, essential oils and fragrances for Private Label Skin Care or Private Label Hair Care Products: Book a call here.
**Only available for purchase with private label products.**