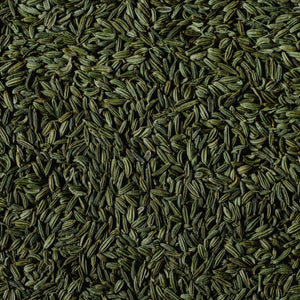 What is Fennel Seed Dried Herb?
A spice harvested from one of the fennel species, fennel seeds have a history of being used in natural skincare. As an antioxidant, fennel seeds can be protective and offer anti-inflammatory properties to your skincare products. Fennel seeds can also be used to strengthen hair.
What are the benefits of Fennel Seed Dried Herb?
Fennel seeds are a good choice for many personal care products because of the long list of benefits they bring. These benefits include:
Antioxidant properties, protecting skin from free radical damage

Anti-inflammatory, to help reduce redness

Anti-microbial and antiseptic

Vitamin and mineral content

Hair strengthening qualities
Do fennel seeds brighten the skin?
Fennel seeds can make your skin glow. With anti-microbial and antiseptic properties, they can help to keep your skin clear and clean. Along with antioxidant properties which protect against free radical damage that can cause premature aging, fennel seeds can work to keep your skin looking youthful and bright.
Does fennel fight acne?
Fennel seeds have anti-microbial and antiseptic properties. This means that they make for a good ingredient in acne treatment. Acne can be caused by a build up of bacteria on the skin that clogs pores and causes blemishes - fennel seeds may be able to protect against this, helping to fight acne.
How do fennel seeds help hair?
Fennel seeds can help to keep hair healthy and vibrant. With vitamin C, calcium, magnesium, and iron, fennel seeds can help to strengthen your hair follicles, helping your hair grow long and strong. The antioxidant properties in fennel seeds can also ensure your hair is protected from damage caused by free radicals.
What are the ingredients?
INCI: Foeniculum Vulgare
Ingredients: Foeniculum Vulgare Seed
Format: Dried Herb Extract
Discuss whether we have this in stock or other extracts, essential oils and fragrances for Private Label Skin Care or Private Label Hair Care Products: Book a call here.
**Only available for purchase with private label products.**