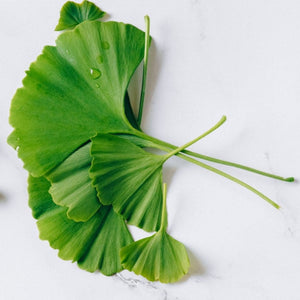 What is Ginkgo Leaf Glycerin Based Liquid Extract?
Ginkgo extract is derived from the leaves of the common Ginkgo Biloba tree and it contains highly potent antioxidants which make it a good choice for skin and hair care products. The active compounds in Ginkgo extract are soluble in alcohol:water solution.
What are the benefits of Ginkgo Leaf Glycerine Based Liquid Extract?
The benefits of Ginkgo Leaf Extract in personal care products are:
Highly potent antioxidant content which provides protection for the skin

Soothing effects to help cool and calm irritated skin

Boosting skin hydration for added moisturisation

Anti-aging effects

Supporting healthy hair regrowth

Improving the health of the scalp
Is ginkgo leaf good for skin?
Ginkgo leaf is a good ingredient in skincare products. It contains antioxidants that can protect the skin from free radical damage and oxidative stress which both contribute to accelerated aging. Ginkgo leaf is also soothing and can help calm irritated skin as well as replenish moisture to the skin.
Is Ginkgo Biloba good for hair loss?
With a high content of antioxidants, Ginkgo Biloba can help to stimulate new hair growth and its anti-inflammatory properties can promote blood circulation to the scalp. It can help to improve the health of weakened hair follicles and stop age-related hair loss in its tracks.
What kind of products could I add Ginkgo Leaf Glycerine Based Liquid Extract to?
Our Ginkgo Leaf Glycerine Based Liquid Extract is a good choice for a few different personal care products. These products include:
Hair treatments for hair loss and hair regrowth

Skincare products for hydration

Skincare for irritated skin

Anti-aging skincare for more mature skin
What are the ingredients?
INCI: Ginkgo Biloba
Ingredients: Glycerine, Purified Water, Ginkgo Leaf Extract
Format: Glycerine Based Liquid Extract
Discuss whether we have this in stock or other extracts, essential oils and fragrances for Private Label Skin Care or Private Label Hair Care Products: Book a call here.
**Only available for purchase with private label products.**