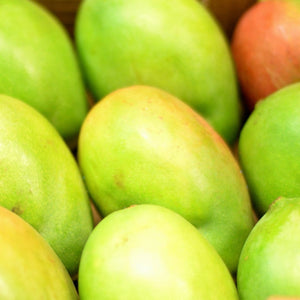 What Is Mango Powder Extract? 
Mango powder extract derives from the freeze-dried grains of mango extracts. This powdered form is extremely high in vitamin A, C and beta-carotene. All of these minerals help to nourish your skin and reduce any visible signs of ageing. Due to this extract being loaded with nutrients, people like to add it to face washes, body lotions, soothing shampoos and even hair masks. 
What Are the Benefits of Mango Powder Extract?
This product contains nourishing properties that help to clean your skin's natural surface. Here are some amazing benefits of using the mango powder extract:
Vitamin C can reduce any fine lines and wrinkles

Beta-carotene protects the skin against UV damage 

Choline can restore elasticity in your face

Vitamin A may help speed up the healing process

Potassium enhances moisture in the skin 
Is Mango Powder Extract Hydrating? 
Yes, the mango extract has nourishing ingredients that can bring a hydrating glow back to your face. Potassium, choline, and vitamin C are especially great at reducing signs of dullness. You can mix the mango powder extract with your favourite face mask and apply that once a week. 
Does Mango Powder Remove Dark Spots?
Mango powder extract contains lightening properties that will remove dark spots. These spots might be age-related or even acne scars. Vitamin C is one ingredient that can brighten your overall complexion. All you need to do is combine the power with a face wash or oil serum. 
How Do You Use Mango Powder Extract?
There are many ways you can use this powder extract, making it a super versatile product. Some people like mixing it with face masks, body lotions, shampoos and even hair treatments. Other suitable uses include adding it to fruit smoothies or delicious baking goods. 

What Are the Ingredients?
INCI: Mangifera Indica
Ingredients: Mangifera Indica Fruit Extract, Purified Water
Format: Fruit & Herbal Powder Extracts