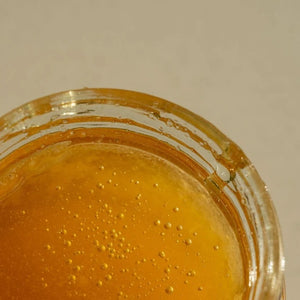 What Is Manuka Honey Powder Extract?
Manuka honey powder extract is made using the nectar from mānuka trees. This sweet ingredient has anti-microbial properties that can clean and replenish your skin. Some people use honey in their DIY face masks to freshen their faces. Many cosmetic companies use this powder in formulations like cleansing milk, hydrating creams, after sun, and shampoos. 
What Are the Benefits of Manuka Honey Powder Extract?
This soothing product can work to replenish your skin, face, and body, making it a super versatile ingredient. Here are some benefits of using the manuka honey powder extract:
Calcium helps to preserve a natural skin glow 

B vitamins soothe inflammation on acne-prone skin 

Magnesium might prevent painful blemishes 

Zinc protects the face against strong UV rays

Pantothenic acid contains lots of hydrating properties
Does Manuka Honey Powder Extract Unclog Pores?
Yes, Manuka honey can actually remove dead skin cells and prevent clogged pores. The anti-microbial properties work to cleanse the face from free radicals, dirt, and toxins. You can mix this powder extract with your favourite face wash and use that at least once or twice a day.
Can Manuka Honey Lighten Your Skin?
The hydrogen peroxide content in Manuka honey can definitely lighten your skin. This powdered form has brightening ingredients, like calcium and pantothenic acid, that contribute to a natural glow. Simply combine the powder extract with your chosen face mask and use it once a week.
Is Manuka Honey Powder Extract Good for Acne?
Manuka honey powder extract has anti-inflammatory and anti-bacterial properties that clean your skin. Getting rid of dirt in your pores is the best way to prevent bad acne flare-ups. Some people might make the classic acne DIY face mask, which comprises honey and turmeric. 
What Are the Ingredients?
INCI: Leptospermum Scoparium
Ingredients: Honey, Maltodextrin, Silica, Methylglyoxal
Format: Fruit & Herbal Powder Extracts