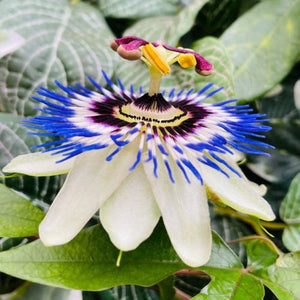 What Is Passionflower Liquid Extract?
Passionflower liquid extract derives from the climbing vine with purple and white flowers. This beautiful plant has been used to calm and soothe people in stressful situations. It contains nutrients like potassium and magnesium, both of which add a glow to your skin. People can choose to mix the liquid extract with face masks, hair treatments, and even fruit smoothies.
What Are the Benefits of Passionflower Liquid Extract?
A liquid-based product can be added to anything in your skincare regime, making it super versatile. Here are some amazing benefits of using the passionflower liquid extract:
Magnesium can reduce acne on the skin

Flavonoids protect your face against UV damage

Phosphorus repairs and maintains skin cells

Copper reduces fine lines and wrinkles

Antioxidants eliminate free radicals 
Is Passionflower Liquid Extract Good for Hair?
Yes, passionflower extract contains lots of nutrients that replenish hair follicles. Phosphorus is a key ingredient that repairs cells on your scalp, leading to healthy growth. You can mix the liquid extract with your favourite shampoo, conditioner, hair treatment, or DIY scalp mask. 
Is Passionflower Extract Anti-Inflammatory?
The passionflower plant has anti-inflammatory properties that can reduce acne. Both flavonoids and magnesium also contribute to healthy-looking skin. To relish these anti-inflammatory benefits, add the liquid extract to a soothing at-home face mask.
Does Passionflower Liquid Extract Work Immediately? 
No, any type of skincare product take a while to properly sink in. You might see results in 2-3 weeks, depending on how much you use the passionflower liquid extract. It might be best to apply the mixture once or twice a day and see how that works with your skin.
What Are the Ingredients?
INCI: Passiflora Caerulea
Ingredients: Glycerin – Vegetable/Palm Free, Purified Water, Passiflora Caerulea Flower Extract
Format: Glycerine-Based Liquid Extract