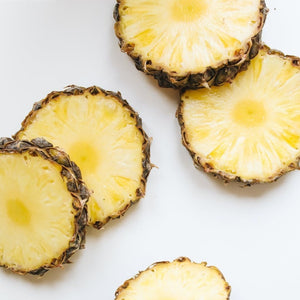 What Is Pineapple Liquid Extract?
Pineapple liquid extract is made using fresh pineapple juice. It contains important enzymes that gently exfoliate the skin and remove dead skin cells, leaving your face feeling smooth. The rich vitamins can also brighten your overall complexion. Many people apply the liquid extract topically by mixing it with face washes, skin treatments, cleansing milk and even shampoos.
What Are the Benefits of Pineapple Liquid Extract?
There are many fruits that are packed with vitamins and minerals, one being the delicious pineapple. Here are some amazing benefits of using pineapple liquid extract:
Vitamin B6 can minimise the appearance of acne

Magnesium repairs and maintains skin cells

Riboflavin stops your face from getting dry

Copper reduces fine lines and wrinkles

Folate boosts hydration in your complexion 
Does Pineapple Liquid Extract Lighten Skin?
Yes, pineapple liquid extract has skin-lightening properties that remove age-related dark spots. The enzyme bromelain can even out your skin tone when reacting with ascorbic acids. Some people mix the liquid extract with a face wash and use that at least once or twice a day. 
Is Pineapple Extract Good for Dry Skin?
Pineapple liquid extract contains riboflavin – a type of B vitamin that stops your skin from getting so dry. The alpha-hydroxy acids also exfoliate and remove dead cells, which helps the skin produce natural moisture. You can add the liquid extract to your favourite face treatment. 
Can Pineapple Liquid Extract Reduce Acne?
Both vitamin B6 and magnesium can reduce those painful acne breakouts. B6 specifically helps with inflammation and the build-up of bacteria. Magnesium repairs any broken cells that are damaged by free radicals, allowing the skin to regenerate after the blemishes heal. 
What Are the Ingredients?
INCI: Ananas Sativus
Ingredients: Glycerin - Vegetable/Palm Free, Purified Water, Ananas Sativus Fruit Extract
Format: Glycerine-Based Liquid Extract