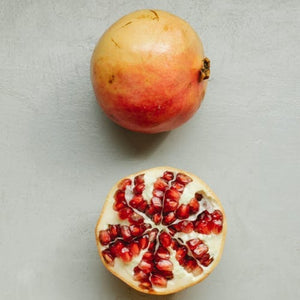 What Is Pomegranate Liquid Extract?
Pomegranate liquid extract derives from hydrating juices of pomegranate seeds. This fruit has moisturising and  anti-ageing properties that give you a youthful appearance. Many people enjoy this extract due to its hydrating ingredients, including vitamin C and K. You can use the moisturising and restructuring ingredient in face washes, cleansing milk, and body lotions.
What Are the Benefits of Pomegranate Liquid Extract?
Consuming pomegranates is great for your overall health, but they're also great for boosting your skin. Here are some excellent benefits of using pomegranate liquid extract:
Vitamin K supports collagen production

Calcium can preserve a natural glow 

Folate prevents the skin from getting dry 

Vitamin C improves overall skin texture 

Potassium eliminates scars on the surface of your skin
Is Pomegranate Liquid Extract Good for Acne?
Yes, pomegranate liquid extract has key ingredients that reduce acne and small pimples. Vitamin C, potassium, and folate contribute to healthy-looking skin. They work to remove dead skin cells that would otherwise clog your pores and trigger those breakouts over the face. 
Can Pomegranate Extract Remove Dark Spots?
Pomegranate is packed with important minerals that reduce hyperpigmentation. One of the main ingredients, vitamin C, actually brightens your skin. This should help remove those dark areas, especially under the eyes. Just mix the liquid extract with your favourite face mask or lotion. 
Does Pomegranate Liquid Extract Give Glowing Skin?
The pomegranate liquid extract will most certainly give you that healthy glow. All of the ingredients combined help to balance out natural oils and hydration in the face. Simply add the extract to your daily face wash and use that in the morning and night. 
What Are the Ingredients?
INCI: Punica Granatum Pericarp
Ingredients: Glycerin - Vegetable/Palm Free, Purified Water, Punica Granatum Pericarp Extract
Format: Glycerine-Based Liquid Extract