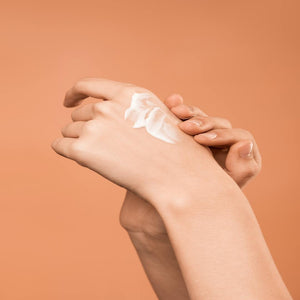 This gentle and soothing moisturiser focuses on hydrating and nourishing skin. Perfect for sensitive skin types. 
Directions: Apply to a clean face. Use a small amount of this moisturiser on your face every morning and evening to feel replenished and hydrated. Make sure to avoid your eyes.   

Ingredients List: please contact (02) 8311 7466 or accounts@australianprivatelabel.com.au
Example Sensitive Skin Hero Ingredients: 
Chamomile: Chamomile is a super gentle skin care ingredient that is anti-bacterial, anti-inflammatory and antiseptic. Chamomile also has the ability to heal and neutralise skin irritants and is largely used for treatment of dry, tender and sensitive skin. 
Aloe Vera: Aloe Vera is a super ingredient for sensitive skin. The cooling properties of the plant can soothe skin issues such as redness, infections, rashes and itchiness. Acemannan compounds in Aloe Vera also contain anti-fungal properties and can treat inflammatory skin issues.
Bisabolol: This ingredient acts as an anti-inflammatory that can calm and soothe your skin. It's also colourless with a subtle, floral fragrance, and can help the skin absorb other active ingredients more effectively. 
Ginger: Ginger has anti-inflammatory properties and is great to use on all skin types such as dry, normal, sensitive or oily skin. Ginger also has the ability to fight acne and can prevent spots from appearing. 
Licorice: Licorice is a top-performing soothing ingredient and has anti-inflammatory properties. It can also help with skin issues like psoriasis and eczema, as well as decrease inflammation in acne and rosacea.