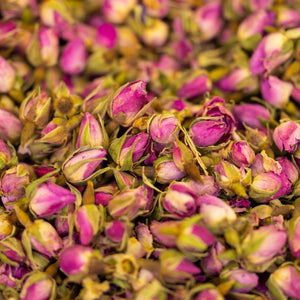 What Is Rose Buds Dried Herb?
The rose buds dried herb is made using dried flowers. These flowers contain lots of important nutrients that can keep your skin radiant and healthy-looking. You can use the dried herb with skin care products like bath salts, soaps, face scrubs, and even essential oils. Some people prefer to mix the rose buds with their favourite face wash to relish the amazing benefits.
What Are the Benefits of Rose Buds Dried Herb?
Dried flowers naturally contain lots of vitamins to boost your hair and skin. Keep on reading to find some excellent benefits of using the rose buds dried herb:
Vitamin A can boost collagen production in the skin

Calcium helps preserve a natural-looking glow

Phytonutrients reverse skin cell damage 

Vitamin C might stop your skin from sagging 

Potassium eliminates scars and blemishes
Is Rose Buds Dried Herb Good for Your Lips?
Yes, rose buds have nourishing nutrients that can hydrate your lips. Both calcium and vitamin A can tighten the skin on your lips while preventing flaking. If you want to make your own lip mask, mix the dried herb with some raw honey, brown sugar, and some mashed avocados. 
Can You Rub Rose Buds On Your Face?
You shouldn't use the rose buds dried herb directly on the skin. This won't provide many benefits when replenishing your face. Instead, mix the crushed dried herb with some of your favourite skin care products, like cleansing milk, body lotion, and hydrating oil serums.
Does Rose Buds Dried Herb Lighten Skin?
Key ingredients like calcium, potassium, and vitamin C can lighten your complexion. Calcium especially preserves a fresh-looking glow that can make you appear more radiant. To lighten any dark areas on your skin, add the dried herb to another lightening agent or cream.
What Are the Ingredients?
INCI: Rose Rugosa
Ingredients: Rose Rugosa Buds Protein
Format:
Dried Herbs Extract