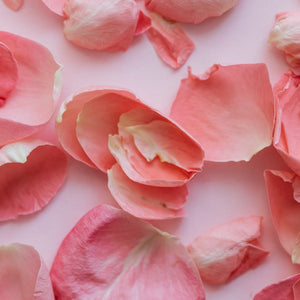 What Is Rose Petals Powder Extract?
Rose petals powder extract derives from dried flowers and leaves. They have anti-inflammatory properties that can reduce the appearance of acne. Some people use rose petals in hydrating products to nourish their skin and bring back moisture. Many cosmetic companies can add powder extract to bath sachets, floral soaps, face scrubs, body lotions, and even shampoos.
What Are the Benefits of Rose Petals Powder Extract?
Of course, rose petals contain important nutrients, but they're essential for replenishing your skin. Let's take a look at the amazing benefits of using rose petals powder extract:
Phosphorus maintains and repairs skin cells

Vitamin A reduces the appearance of wrinkles

Amino acids restore any visible damage on the skin

Calcium regulates sebum production 

Vitamin C can help lighten your skin tone 
How Do You Use Rose Petals Powder Extract?
There are many ways you can use this powder extract. Some people could add it to their favourite face wash and others might mix it with bath salts. The usage depends on your skincare goals, so experiment with this extract to find what works best for your skin. 
Does Rose Petals Extract Brighten Skin?
Yes, the rose petals powder extract can brighten your overall complexion. Vitamin C is a key ingredient for an evening out the skin tone and eliminating hyperpigmentation. The amino acids, another great mineral in rose petals, may repair any damage that dulls your skin.
Is Rose Petals Powder Extract Good for Your Hair?
You should definitely add some of the powder extracts into a shampoo. Minerals like calcium and phosphorus will nourish your scalp and exfoliate the hair follicles. Stronger strands of hair mean you won't experience dead ends, especially if you like to use hair dye regularly. 
What Are the Ingredients?
INCI: Rosa Centifolia
Ingredients: Rosa Centifolia Flower * * Denotes Certified Organic
Format: Powder Extract