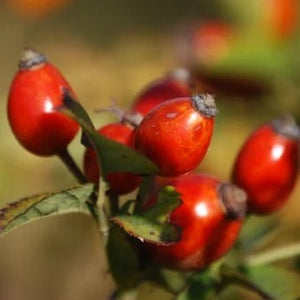 What Is Rosehip Liquid Extract?
Rosehip liquid extract is made using the 'fruit' of the rose that holds the seeds. This red-orange ingredient contains anti-inflammatory properties that treat skin infections and damaged skin tissue. You can also use rosehip to heal scars after extensive surgery. Many cosmetic companies add this to skin care products when treating dark age spots and stretch marks.
What Are the Benefits of Rosehip Liquid Extract?
This liquid extract is completely versatile and can help anyone trying to replenish their skin. Keep on reading to find some amazing benefits of using the rosehip liquid extract:
Vitamin C reduces fine lines and wrinkles

Selenium keeps the skin firm and protected 

Magnesium can reduce acne-related problems

Vitamin B balances out your natural oils

Phosphorus may repair and maintain skin cells
Does Rosehip Liquid Extract Lighten Your Face?
Yes, rosehip extract has skin-brightening properties that remove any dark spots. Vitamin C and phosphorus strengthen your skin cells, leading to fresh-looking skin that looks brighter than before. To relish these benefits, mix the liquid extract with your favourite face wash. 
Is Rosehip Extract Good for Under Eyes?
You can definitely use the rosehip liquid extract to eliminate dark under-eyes. Selenium is also a key ingredient for firming any wrinkles beneath your eyes and making you look younger. Just remember that skin is extra sensitive, so add the extract to a soothing eye cream or serum.
Can Rosehip Liquid Extract Eliminate Scars?
The rosehip liquid extract contains phosphorus and selenium – two important minerals that reduce the appearance of scars. Some people even use this after surgery to maintain their skin's health. Always speak to your doctor before using any kind of product after the surgery.

What Are the Ingredients?
INCI: Rosa Canina
Ingredients: Glycerin - Vegetable/Palm Free, Purified Water, Rosa Canina Fruit Extract
Format: Glycerine-Based Liquid Extract