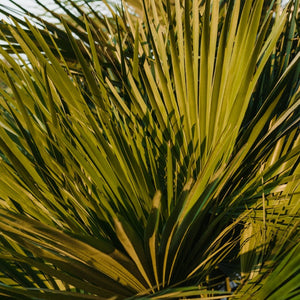 What Is Saw Palmetto Powder Extract?
Saw palmetto powder extract is made using the finely ground remains of saw palmetto plant. This type of foliage grows berries that contain lots of antioxidants. Many people use saw palmetto to improve prostate health and potential hair loss. However, you can also relish the skincare benefits, as it works to reduce wrinkles, fine lines, dark spots, and sagging skin. 
What Are the Benefits of Saw Palmetto Powder Extract?
People can add the powder to many skin and hair products, making it a versatile option. Let's take a look at some amazing benefits of using saw palmetto powder extract:
The high antioxidant profiles fight off free radicals

Flavonoids protect the skin against UV damage

Beta-sitosterol is a skin-soothing ingredient 

Fatty acids can regulate the skin's natural oils

Lupenone contains anti-inflammatory properties
Does Saw Palmetto Powder Extract Make Your Hair Thicker?
Yes, saw palmetto contains ingredients that could strengthen your hair. The high amount of antioxidants may eliminate free radicals on the scalp, which leads to better hair growth. This means your hair follicles will be free of bacteria and germs that clog your pores.
Can Saw Palmetto Reverse Ageing?
Of course, nothing can totally prevent ageing, but it's possible that saw palmetto liquid extract slows the process down. The fatty acids and beta-sitosterol enhance your skin's natural glow and take the shine away from dark spots or wrinkles associated with premature ageing. 
Does Saw Palmetto Liquid Extract Tighten Skin?
The saw palmetto liquid extract has antioxidants and flavonoids – two ingredients that protect your skin from environmental damage. For example, the skin-loving flavonoids stop UV radiation from causing wrinkles, which can naturally give you tighter skin with consistent use.
What Are the Ingredients?
INCI: Serenoa Serrulata
Ingredients: Serenoa Serrulata Fruit Extract
Format: Fruit & Herbal Powder Extract