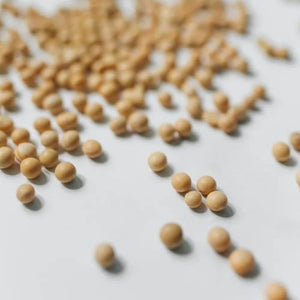 What Is Soy Protein Liquid Extract?
Soy protein liquid extract comes from soybeans – a type of edible bean that is packed with vitamins and minerals. The soy-based extract can be great for ageing skin, as it works to remove fine lines and wrinkles. Some people use soy protein to enhance their natural features. You can mix this extract with face washes, body lotions, shampoos, and even hair masks.
What Are the Benefits of Soy Protein Liquid Extract?
You can mix soy protein with any skincare product, making it super versatile. Keep reading to find the benefits of using soy protein liquid extract:
Copper can help boost collagen production 

Folate reduces wrinkles and fine lines

Vitamin K ensures the skin is firm and plump 

Phosphorus repairs damaged skin cells

Manganese protects the face against UV damage
Does Soy Protein Liquid Extract Brighten Skin?
Yes, soy protein contains minerals that brighten your complexion. For example, vitamin K makes the skin appear plump while boosting hydration in the skin cells. More hydration stops your face from looking dull and dry, so it's worth mixing this extract with your favourite skincare product.
Does Soy Protein Contain Collagen?
No, soy protein liquid extract doesn't contain collagen, but it can boost collagen production. Copper is a key ingredient when it comes to keeping the skin tight and firm. Soy products usually contain genistein – a plant hormone that blocks enzymes from damaging collagen fibres.
Is Soy Protein Liquid Extract Good for Hair?
You should definitely use this soy protein extract for hair growth. Manganese and phosphorus work together to protect your scalp and unclog the pores. If you want to reap these amazing benefits, simply mix the soy protein liquid extract with a shampoo or hair mask.
What Are the Ingredients?
INCI: Hydrolyzed Soy Protein
Ingredients: Glycerin - Vegetable/Palm Free, Purified Water, Hydrolyzed Soy Protein
Format: Glycerine-Based Liquid Extract