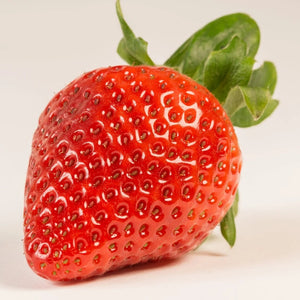 What Is Strawberry Liquid Extract? 
Strawberry liquid extract is made using the juices of the strawberry fruit. This delicious fruit is packed with minerals and vitamins that are great for your skin. Some of these nutrients protect your skin against sun damage, which prevents those stubborn dark spots. You can mix this liquid extract with soothing body lotions, acne treatments and even replenishing hair products.
What Are the Benefits of Strawberry Liquid Extract?
Strawberries are one of the most popular fruits, so it's no surprise that it holds many health benefits. Here are some amazing benefits of using strawberry liquid extract:
Vitamin C eliminates stubborn wrinkles

Polyphenols protect skin against UV damage

Manganese speeds up the wound healing process

Vitamin E contains anti-inflammatory properties

Copper makes your skin feel firm and tight
Does Strawberry Liquid Extract Clear Acne?
Yes, strawberries contain lots of acne-clearing ingredients. For example, vitamin E reduces inflammation from acne and clears the pores. This can prevent acne from coming back and causing more pain. Just add the extract to your face wash and use that twice a day. 
Do Strawberries Lighten Your Skin?
Strawberry liquid extract could brighten your overall complexion. Copper is great when it comes to lightening dark spots and enhancing the radiance of your skin. To relish these amazing benefits, mix the liquid with a face cleanser, toner, oil serum, or even a DIY face mask. 
Can You Apply Strawberry Liquid Extract to Lips?
You should add the strawberry liquid extract to a lip treatment before applying it. This ensures the extract doesn't dry out the skin or cause irritation. Some people like to make their own lip masks at home, which comprise raw honey, brown sugar, coconut oil, and plain yogurt.
What Are the Ingredients?
INCI: Fragaria Ananassa
Ingredients: Purified Water, Fragaria Ananassa Fruit Extract, Phenoxyethanol, Caprylyl Glycol
Format: Water-Based Liquid Extract