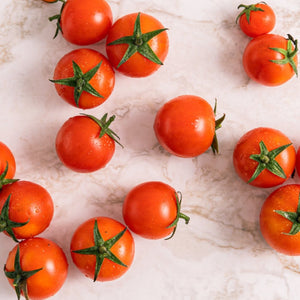 What Is Strawberry Powder Extract?
Strawberry powder extract is a spray-dried substance that contains important vitamins and minerals from strawberries. These minerals could be folate, tannins and flavonoids. Many people love using powders in their favourite skincare products, as they help to replenish the skin. You could add this extract to a daily face wash or even a face mask treatment. 
What Are the Benefits of Strawberry Powder Extract?
Now, powder extracts are super versatile, making them great for anyone's routine. Keep reading to discover some benefits of using the strawberry powder extract:
Vitamin C eliminates signs of ageing

Tannins reduce acne breakouts and blemishes

Folate increases hydration in your skin cells

Anthocyanins protect your face from sun damage

Vitamin K makes the skin look firm and plump
Does Strawberry Powder Extract Clear Your Skin?
Yes, strawberry extract can clear your skin and prevent acne breakouts. The tannins are a key ingredient that targets clogged pores and removes bacteria that may cause blemishes. All you need to do is add the powder extract to your favourite face wash and use that twice a day.
Do Strawberries Make Your Face Glow?
Strawberry powder extract can give you a radiant glow. Folate and vitamin K both brighten your complexion and reduce dark spots. Vitamin K also encourages a youthful appearance due to its plumping qualities. Just mix the powder with a hydrating face mask to notice the benefits.
How Do You Use Strawberry Powder Extract?
There are many ways you may use this strawberry extract. Some people mix the powder with their favourite skincare products. This could be face wash, cleansing milk, body lotions, and even shampoos. Yes, you heard that right, strawberries can also promote strong hair growth.
What Are the Ingredients?
INCI: Fragaria Ananassa
Ingredients: Fragaria Ananassa Fruit Extract, Purified Water
Format: Fruit & Herbal Powder Extract