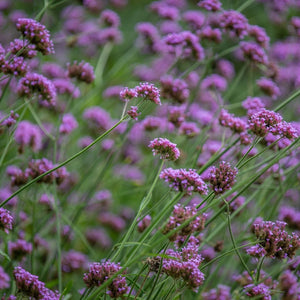 What Is Verbena Liquid Extract?
Verbena liquid extract is made by taking vitamins, minerals, and fragrances from the verbena plant. These beautiful, long-blooming flowers are packed with powerful antioxidants, which help to replenish your skin. Even though verbena is used in many herbal medicines for sore throats, you can still use it topically for skin-related issues like dry skin, acne, and clogged pores. 
What Are the Benefits of Verbena Liquid Extract?
This bright flowering plant is a versatile ingredient that can strengthen your skincare regime. Here are some amazing benefits of using the verbena liquid extract:
Vitamin C reduces the appearance of wrinkles

Phenolic compounds have anti-inflammatory properties

Antioxidants eliminate free radicals that damage the skin

Flavonoids protect your face against UV radiation 

The antimicrobial effects stop acne from forming 
Is Verbena Liquid Extract Good for Hair Growth?
Yes, verbena extract is great for healthy hair growth. The phenolic compounds will cleanse your scalp and stop the hair follicles from becoming clogged. You can mix the liquid extract with shampoo or a mask but only use the hair mask once a week to keep your hair healthy.
Can Verbena Reduce Your Rash?
There are many ingredients in verbena liquid extract that can remove a rash. For example, some of the phenolic compounds reduce redness and inflammation. The flavonoids will then protect your skin against environmental damage, which stops the rash from spreading. 
Does Verbena Liquid Extract Make You Glow?
Verbena liquid extract has the potential to make you glow. Vitamin C is one of the main components that enhance your natural radiance and reduce any signs of ageing. To relish these amazing benefits, simply mix the extract with a daily face wash and use that twice.
What Are the Ingredients?
INCI: Verbena Officinalis
Ingredients: Glycerin - Vegetable/Palm Free, Purified Water, Verbena Officinalis Extract
Format: Glycerine-Based Liquid Extract